Ohio COVID-19 Election Information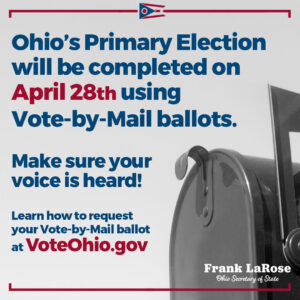 Ballots must be postmarked by April 27, 2020 and received by the board of elections by May 8, 2020 to be counted in the primary election if the proper information was provided on the identification envelope.
---
Early Voting
Vote by Mail applications are available online, in person at the Main Library or Bertram Woods Branch, and at the Board of Elections. See the Cuyahoga County Board of Elections website for complete details about completing the Vote by Mail application and returning your ballot.
Voter Registration Forms
Haven't registered to vote yet? Voter registration forms are available online  and at the Main Library or Bertram Woods Branch. These forms may be completed in the library or mailed directly to the Board of Elections.
Related Online Resources for Ohio Voters
Detailed information about voting is available on the Secretary of State's website.
If you interested in conducting a voter registration drive or some other voter engagement initiative, The voter engagement resource library provides common materials that may be used to help with your outreach efforts. Use the library to access important forms, talking points, guidelines, marketing materials, and more.
Non-Partisan Information about Candidates and Elections
Judge4Yourself.com is a non-partisan site giving ratings of judicial candidates from various sources.
League of Women Voters of Shaker Heights is a nonpartisan organization committed to voter education.