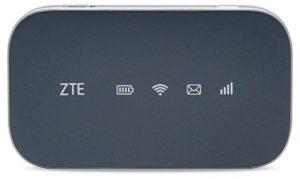 Welcome to our Hotspot lending service. To further the Library's mission to enrich lives by bringing together people, information, and ideas, we are introducing our HotSpot lending program to make information – and more specifically the Internet – accessible to everyone. Shaker Heights Public Library now has mobile HotSpots available for borrowing. You may borrow the device to access the Internet free at home, in the car, or anywhere else!
HotSpots provide Internet access to smartphones, tablets, and other wireless enabled devices through the Sprint cellular network. Service is dependent on the availability of the Sprint network where the HotSpot is being used. Up to 10 devices can connect to the HotSpot at one time and there are no data plan limits.

Guidelines for Borrowing and Use
You must be 18 years of age or older to check out a HotSpot.

A valid Library Card in good standing, with a current address on file, must be presented at the time of checkout.

You are limited to one HotSpot per account.
Loan Period:  Mobile HotSpots may be checked out for two weeks (14 days.)

Holds: 
Holds may be placed at the Information Desks at both Shaker's Main Library and Bertram Woods Branch, or by calling 216-991-2030 option #6.

You'll receive notification when a HotSpot becomes available.

You will have 2 days (48 hours) to check out the HotSpot before your hold is cancelled.
Restrictions:
Mobile HotSpots may not be renewed.

Mobile HotSpots must be returned in person to either Shaker's Main Library or Bertram Woods Branch. A staff person will do a visual check to ensure that the device and accessories are returned in good condition.

HotSpots should never be placed in Library book drop – they could be damaged and you will be responsible for replacement costs.


The Library reserves the right to refuse service to anyone who abuses equipment or is repeatedly late in returning electronic devices.

Overdue Mobile HotSpots will be deactivated.
Fines & Liability:
Mobile HotSpot should be kept in a temperature controlled environment; do not leave it in a car.

Patrons are responsible for costs associated with loss or damage of Mobile HotSpot and/or cords, adapters, cases, etc.

Replacement Costs:

HotSpot Device $80

Case $15

Charging power supply with cable $5.00
Instructions for Use:
To scan for and connect to available Wi-Fi HotSpot network, follow these steps:
Turn on the mobile HotSpot

On your computer or other Wi-Fi enabled device, search for available Wi-Fi Networks and select the Network Name (SSID) for your Mobile HotSpot

Enter the network password found on your Mobile HotSpot
NOTE: It may take up to a minute to establish a connection.