Parents and Teachers
Parents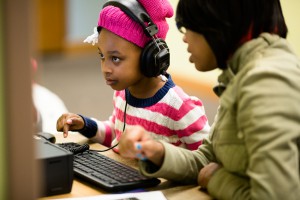 We have programs and classes for all ages, including programs that focus on early literacy skills to help prepare your child to succeed in school. Visit our Play and Learn Station on the second floor of the Main Library for exciting early literacy activities for you and your child.
Helping your child succeed in school is important to us.  Our staff is happy to help your child find information for assignments in our large collection of books and online resources.  During the summer we offer reading programs for all ages to help maintain reading skills and prevent "summer learning loss."
Reading with your child is one of the most important things you can do to help him or her become a proficient reader and achieve academic success.  Shaker Library participates in the 1000 Books Before Kindergarten program, which encourages you to share 1,000 books with your child before he or she starts Kindergarten. Once the child can read independently, reading aloud can still be an enjoyable family activity.  Children are never too young or too old to be read to!
All children from birth to age five who live in Shaker Heights, Cleveland Heights, and University Heights are welcome to register for the Imagination Library program courtesy of Heights Family Foundation. In this program, your child will receive an age-appropriate book in the mail each month through his/her fifth birthday — for free!
Both the Main Library and the Bertram Woods branch have extensive collections of books for family sharing or for children to read on their own, including a special Parenting Collection of picture books that you may wish to share with your children to help them deal with life events or special issues such as adoption, a new baby, death, divorce, or toilet training.
We also offer downloadable eBooks and other eMedia for children, as well as suggestions for online games and activities that you and your child may enjoy.  We're happy to help you find just what your family is looking for.
Teachers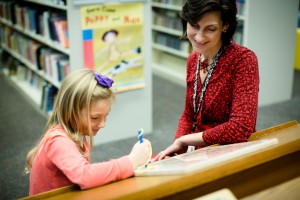 The Shaker Library staff is eager to work with you to help your students succeed.  We offer a variety of resources for teachers, including extended loans, help with special book requests, and presentations at the library or at schools in the Shaker Heights City School District.
Students and families can find a variety of materials and services at the library to support children on the road to academic success.  For children from birth to age five, we offer age-specific programs and classes focused on early literacy. The Play and Learn Station, an early literacy playroom located at the Main Library, provides interactive activities to help children build the important skills they will need to be ready to learn to read.
We maintain a large collection of books for all ages, as well as many helpful online resources.
And don't forget, the library's summer reading program is an important tool to help your students maintain their skills and avoid summer learning loss.
Please visit or call the library to let us know how we can help you.  You can also let us know about upcoming assignments so we can be prepared to help your students find resources by submitting the online Assignment Alert form.