The Library's new "Spaces" system is a quick and easy way to reserve Library meeting rooms. To reserve a room, visit https://shakerlibrary.evanced.info/spaces. If you are reserving a room for the first time, you will need to Create an Account.
If you have an upcoming reservation an account has been created for you. You will need to follow the steps to Reset Your Password to access your account.
Create an Account

Click "Create an Account" in the upper right hand corner of the page.
Complete the form with the required information.
Click "Create Account"
Check your email. You will receive an email with a link to confirm your account. Click on the link and you are ready to log in and reserve a room!
Request a Meeting Room
Select the Space
Log into your account
Enter your preferred date and time and click "Search for a Space"
You will see all available meeting rooms, listed in order of capacity.
You may filter your search options by using the "Locations" and "Equipment" sections on the left side of the screen
Select the room you want to reserve and click "Pick Me!"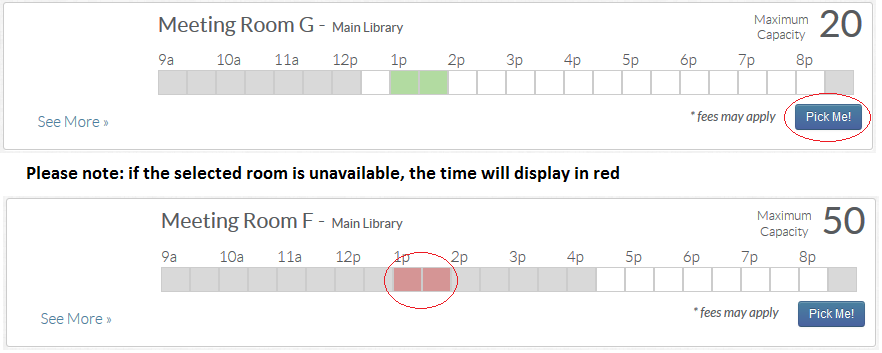 Complete the Application
Complete the Application

Acknowledge the Meeting Room Policy and Guideline: review the Library's

Meeting Room Policy and Guidelines

and use the checkbox to acknowledge that you've read and agree to abide by the Terms and Conditions.

Check your email. You will receive an email stating that your request has been submitted.
When you application has been reviewed, you will receive another email notifying you your request has been approved or denied.
Notes about Organizations:
If you are affiliated with an organization, select your organization from the pull-down list under "Choose Organization"
If your organization is not listed, click "Join or Create an Organization" and complete the "Request to Create a New Organization" with as much information as possible
If you are not affiliated with an organization, choose "No Organization" and specify your meeting details in the purpose field (example: Jane's Baby Shower)
Manage Your Account
When you log into your account you have the ability to manage your reservations including:
Viewing if a reservation is pending or has been approved
Editing or cancelling a reservation
Viewing your reservation history
Making a new reservation
Making a payment
Joining or editing your list of organizations
Reset Your Password
Select Login
Click Forgot Your Password?
Enter your email address in the pop-up window
Click on "Reset Password"
For Questions or Help, please contact the Administrative Secretary at 216-991-2030 x3003 or email meeting.room@shakerlibrary.org