To reserve a room, please visit events.shakerlibrary.org.
Next to the Upcoming Events Calendar, go to the box entitled "Meeting Rooms".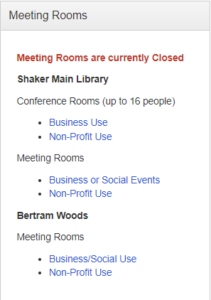 Rooms are displayed by location and are broken down into 2 categories:
Non-profit use
Social / For-profit or Business use
Select your room based on the nature of your event.  For complete information, including hours available, see the full meeting room policy and general information about meeting room rental.
(If you would like to see the availability of all rooms at your chosen location select "All Categories" for that location).

To reserve your space:
Select the date of your reservation
Select your start time on the grid
Select your end time below the grid by using the drop down menu
If you would like to reserve equipment with your room, select "Add Equipment" and make your selections
When your reservation is complete, "Submit Times"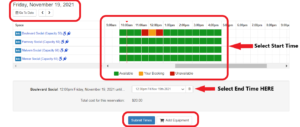 To complete your booking, please review and agree to the Terms and Conditions by selecting "Continue" at the bottom of the page.
If you need to edit your request before continuing, select "Change" next to your booking information.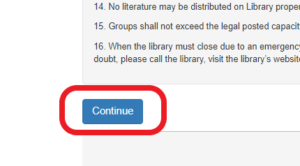 Please fill out the requested information and select "Submit my Booking".
You will receive an email confirming that you submitted your reservation for consideration.  You will receive an additional follow up email with the Library's decision.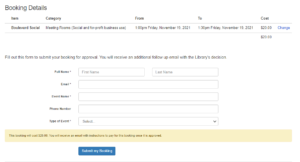 For Questions or Help, please contact the Administrative Services Associate at 216-991-2030 x3003 or email meeting.room@shakerlibrary.org