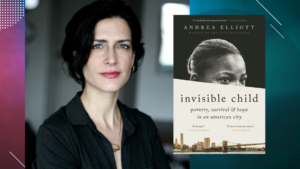 What if everyone in the city read one book? The City Club of Cleveland, Playhouse Square, and nine local public library systems have joined together to create a shared reading experience for the Greater Cleveland community. This year's selection, the Pulitzer Prize-winning Invisible Child: Poverty, Survival & Hope in an American City by Andrea Elliott, dives deep into the story of Dasani, a child experiencing homelessness in New York City, that takes place over eight years. Readers follow Dasani and her siblings as they deal with hunger, parental drug addiction, violence, housing instability, segregated schools, and the continual monitoring of the child-protection system.
One Community Reads is designed to broaden our appreciation of reading and to encourage friends, families, and neighbors to share their experiences reading the same book. The project is further intended to engage the community in conversations on one of America's most devastating problems – homelessness.
One Community Reads programming includes book discussions and provocative programs and events centered on the issues Dasani and her family confront in the book – and how we can come together to address the urgent needs of those facing housing insecurity in our communities.
"Almost nothing counts more than the person who shows up." ― Andrea Elliott
Shaker Library offers interesting programming to complement this initiative and invites the community to "show up."
---
Wednesday, March 1 from 7-8:30 pm – Join the Book Discussion. The focus of the discussion will be on Chapters, 13, 33, and 40 of Invisible Child.
Monday, March 6 at 7 pm – A  forum with Andrea Elliott in the Mimi Ohio Theatre at Playhouse Square. Tickets are free and are available through Playhouse Square.
Wednesday, March 8 from 7-8:30 – Join a Community Conversation on Poverty in Shaker Heights. Representatives from local organizations will discuss the challenges of poverty in Shaker Heights. Library Director Amy Switzer will lead the discussion and welcomes the community's ideas on how to meet the challenge.
Saturday, March 25 from 11 am to 2 pm – Attend the Community Resource Fair. Local agencies will be on hand to share resources relating to food, housing, mental health, senior, youth and family services, civic education, and voter registration. Everyone is welcome to browse the tables of local service providers, gathering what they need or want to share with others.