**For a limited time, residents can make digital copies of their microfilmed blueprints for free using the microfilm scanner generously loaned to Shaker Library by Cleveland Public Library's Digital Library. Contact Local History to make an appointment. Note: this is for microfilmed blueprints already in our collection ONLY. We do not have the capability of scanning your paper blueprints, but can suggest other options.**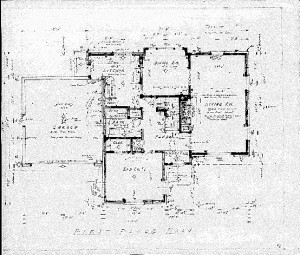 Beginning with homes built in 1945, the City of Shaker Heights microfilmed building plans and blueprints that were submitted with building permits before routinely destroying the paper plans. The City subsequently deposited over 100 of these microfilm rolls in the Shaker Library Local History Collection.
Plans for buildings built before 1945 were not microfilmed, and paper blueprints and plans were not preserved by the City of Shaker Heights.
To learn if your blueprints were microfilmed, look up your home's information in the Shaker Buildings Database.
If the Plan File Number, which locates the blueprints in the microfilm rolls, is not '0,' it is likely that we have microfilmed blueprints available for your home. Unfortunately, occasionally the plan file numbers were recorded incorrectly on the building cards and thus do not correspond to the correct house plans.
Through an ongoing volunteer-supported microfilm indexing process, we are locating previously unrecorded microfilmed house plans for post-1945 additions and renovations, and are accordingly updating the Shaker Buildings Database with these newly discovered plan file numbers.
Connect to Local History to see if your blueprints are available and to obtain paper or digital copies.