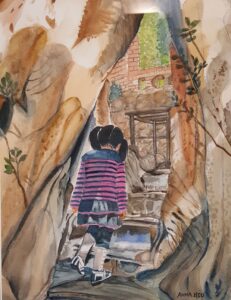 Congratulations to the Winners of the 19th Annual Barbara Luton Art Competition.
Best of Show was awarded to Anna Hsu for her watercolor, entitled New Steps on Old Paths. According to the jurors, Anna's piece "captivated them because it seemed to have such a strong story surrounding it. What is the girl walking to or away from? Is she scared, sad, nervous, shy, or something else altogether? Even though we couldn't see the girl's face, we were intrigued by her. It was also beautifully composed, with incredible brush strokes and colors." – Tiffany Graham and Erin Guido, Land Studio
Anna's watercolor will become part of the Library's permanent art collection.
First Place went to Shyvonne Coleman for her linoleum wallpaper roller print entitled, Real Good Hands.
Second Place went to Patricia Schroeder for her fabric collage and gauche entitled, Quilty Landscape
Third Place went to Michael Cole for his photograph entitled, Gentleman of Qufu, China.
Honorable Mentions went to:
Pimei Huang for her watercolor, Japanese Beauty
Dina Hoeynck for her linocut, Touch
Jennifer Adams for her textile & photography, Monkey Resting with Tire Swing
Jane Petschek for her intaglio etching, Étretat – The Needle and the Porte d'Aval and
Tricia Kaman for her pastel, Still Waiting. Honorable Mentions went to:
Other artists juried into this year's show include Leslye Discont Arian, Philip Bailin, Cecelia Baldridge, Mikhail Bratslavsky, Debra Bream, Alexandra Brin, Hazel Brown, Tamar Calland, Michael Costello, Margaret Fischer, Boni Suzanne Gelfand, Sandra Johnson, Wally Kaplan, David King, DeAndre L. King, Rosalie Litt, Alan Pittman, Jacob Ratmansky, Sheila Reingold, Marianne Wilham, Shari Wolf, and Ted Yu.
Past winners' whose works are now part of the Libray's permanent art collection include: Gary Williams, Horace Reese, Terry Sciko, John Harmon, Johnine Byrne, Jerome White,  David Brichford, Daniel George, Mary Ryan, Amy Lewandowski, Paula Zinsmeister, Judy Takacs, Ted Yu, Michael Prunty, Candace Dangerfield, Elise Newman, and Patricia Schroeder, and Debra Bream.