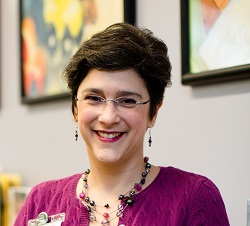 As the newly appointed Director of Shaker Library, I would like to say that it is an honor to serve a community with a national reputation for excellence.  I am excited to assume my duties as Library Director and I look forward to engaging in conversations across the community about the future of library spaces, services, and resources. Shaker Library has a long tradition of excellence and I look forward to working with the Board, the staff, and the community to continue to deliver high quality library services and programs. I appreciate the Board's vote of confidence as we work together to strengthen and grow our library.
The Library Board and staff have been busy studying the options for our library facilities and we plan to outline them at the Board Meeting at 6:30 PM October 10 at Main Library. Board Meetings are open to the public and we welcome participation from the community. Our Board welcomes community feedback. Contact Library Trustees.
The Library has been in the news lately, and I would just like to clarify that Shaker Library is a separate political entity from the city and the schools. While we all work together to make Shaker a great place to call home, the city answers to its elected officials on city council; the schools answer to its school board, and Shaker Library answers to its Library Board of Trustees. The Library Board has complete authority and responsibility to make policy decisions regarding library programs and services, property, staff and budget.
Our September "A Card for Every Kid" amnesty program was a success and we are pleased to report that  340 children and teens now have library cards they can use. Thanks to our Children's staff and Circulation staff for their work on this very worthwhile project.
Shaker Library staff members are busy in the community leading book discussions at Academy Tavern and Library Court Apartments; creating story walks and art projects on October weekends for the Shaker Heights Arts Council's Pop-Ups at The Dealership; engaging in Moreland Rising Neighbor Nights; holding story times in area preschools, leading art talks at the Cleveland Museum of Art, and hosting information tables and activities at the Nature Center and for the City's Health Fair Expo.
Upcoming October events at the Library include a lovely display of book and paper art in celebration of Octavofest. Jennifer Souers Chevraux from ICA- Art Conservation will teach children and adults how to preserve special pictures and mementos at an intergenerational program Sunday afternoon, October 16 at Main Library.
October 13 at Main Library, we will host award-winning journalist Joanna Connors, author of I Will Find You: A Reporter Investigates the Life of the Man Who Raped Her, which Kirkus Review has described as, "A courageous and unsettlingly forthright memoir of overcoming trauma."
Books are our business and we continue to offer a healthy assortment of book discussions. We have added a Cook the Book cookbook discussion and an award-winners book discussion at Woods Branch, which we hope you will enjoy.
Again, I am pleased to serve as Shaker Library's eighth director.
Amy Switzer, Director
aswitzer@shakerlibrary.org