Our big news for August is that we have hired a new Business Manager/Fiscal Officer. Susan K. Beaver joined the Library staff in July. She is a graduate of the University of Akron with a B.S. degree in accounting. Susan has more than 18 years' experience in governmental accounting where she has worked with receivables, payables, budgets, grants, state reporting, procurements, and audits. Additionally, she has managed multiple software conversions and upgrades including a new payables system. We are glad to welcome her to our staff.
As our Summer Reading programs come to an end August 6, we give thanks to our Friends of the Shaker Library for its continued support. We also extend our thanks to OverDrive, which challenged our adult summer readers with the generous incentive of a donation of $1 for every book read up to $500. Our community of readers rose to the challenge by reading more than 840 books, and we received a generous check from Overdrive to purchase more books. We are most fortunate to serve a community that supports its library.
Thanks also to Cleveland Public Library and Great Lakes Theater for their August workshops in support of the First Folio in Cleveland. We enjoyed David Hansen's adaptation of Twelfth Night and learned how to boogie like the Bard at a Shakespearean dance workshop.  The Folio has moved on, but Cleveland can be proud to have been one of the sites for its display.
End-of-summer fun continues when we celebrate a summer of reading with an Xtreme Magic Show Thursday evening, August 4 at Main Library. Our adult readers are invited to The Academy Tavern on Larchmere Boulevard from 7-9 pm Tuesday, August 16, when we raise the bar on reading, and "The Academy" donates a portion of the proceeds to the Library.
With no time to bask in the success of summer reading, we are busy planning school-time activities and programs. We have arranged for a yellow Shaker School bus to visit the libraries on August 9 and August 11 when preschoolers can board the bus to hear back-to-school stories.  Thursday evening, August 18 the Library and the League of Women Voters will present its third community forum on Regionalism and Shaker Heights: What Are the Options? What's in it for Shaker? Judy Rawson, former Mayor of Shaker Heights, will moderate a discussion with panelists: Armond Budish, Edward Kraus, Mayor Earl M. Leiken, and Hunter Morrison. It's your community! Join in the discussion. We have also provided a 4-day session, August 22-25, FREE SAT Boot Camp with College Now Greater Cleveland for our teens.  Not only will they learn the tricks of the test, but they will also take home a test prep book. And it's all FREE.
As we struggled with the implications of recent violent events, Shaker Library and libraries throughout Cuyahoga County worked together to gather resources that can help lead to a better understanding of civil rights, justice, and race. Talking about race is incredibly complicated and even the experts struggle with it.  Our staff created a booklist, Reading about Race, that includes titles available at our library that address civil rights, justice, and race.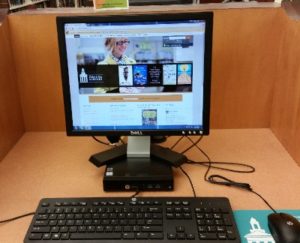 Beyond programming, we have also improved our service to seniors and installed new computers at Bertram Woods Branch. To make it easier for our seniors to apply for a Golden Buckeye card, we verify their applications and fax them to the State, saving them time, trouble, and money. All Ohioans age 60 or older and adults age 18-59 who have disabilities are eligible for a free Golden Buckeye card that offers many discounts. If you know someone who qualifies but doesn't have a card, please let them know they can apply at the Library.
If you want to become more involved with your home library, consider applying for a two-year term on the Library Board of Trustees.  Applications are available online and must be submitted by August 12, 2016.
Amy Switzer
Interim Director
director@shakerlibrary.org