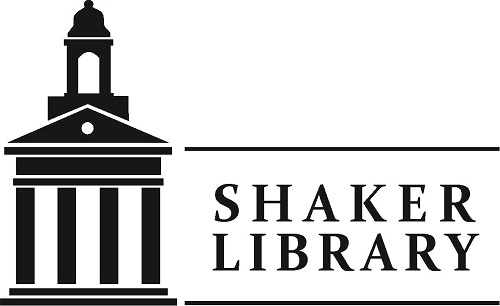 Teens, ages 13-18, are invited to enter the Library's Three for Teens Card Competition. Many teens cannot borrow library books because their cards are blocked. The Library—in collaboration with the Friends of the Shaker Library—wants to create a Three for Teens card that will allow teens to borrow up to three books from the Library without the need for a parent's or guardian's signature. And they invite teens to design it. Be creative! (Designs of current Library cards can be viewed here.)
All art should be clear when reproduced at a smaller size. Keep in mind that library cards are 2-inch by 3.5-inch wide. Designs may be drawn, painted, photographed or computer designed. Download the Shaker Library Logo below.
You may use the entry form or your own sheet of paper. You may submit your entry electronically as a high resolution PDF or JPG by email to msimon@shakerlibrary.org. In the body of the email, please include your name, phone number, and email address.
Deadline extended!  Entries will now be accepted through February 13!
Entries will be accepted through January 30, 2017. Entries can be submitted at the Youth Services Desk, Teen Desk, or Circulation Desk. The winner will be announced February 27.
Download the Shaker Library Logo