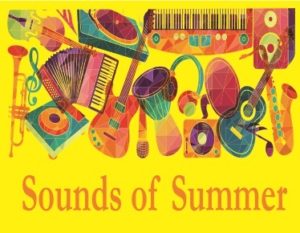 Summer Reading is now in full swing. As of June 12, there were 142 preschoolers, 549 school-age children, and 72 teens registered for summer reading, and 81 adults have reported reading 79 books. This auspicious beginning is likely related to our Youth Services staff visits to the Shaker elementary schools to promote the programs, along with the excellent staff and Board participation in the City's Memorial Day Parade. The Book Cart Brigade was again on a roll and we heard many "We love the Library" comments. Thank you to all who helped to make our presence known.
Our Sounds of Summer Kickoff event on June 5 at Main Library was a successful collaboration with the Shaker Schools Family Engagement Team and the City Recreation department. Library staff pitched in to make it a fun family evening that celebrated the end of the school year and the beginning of summer reading.
Our children's reading program this summer is Reading Sounds Good: Tune In. Our graphics and activities focus on the theme of music and so we apply that theme to reading. Musicians get better with practice and children become better readers with practice. It doesn't matter what they read, as long as they are engaged and read every day. We want them to fine tune their reading so they will be ready for school in the fall. Don't let their instruments get rusty! We encourage all parents and caregivers to bring their children to the library. Let us help them chose a book they will love this summer―and they will be better readers for it when school begins this fall!
This summer our staff has extended its outreach. They will provide a rotating collection for the Shaker Schools Summer Exploration Learning and Fun camps (SELF) and will make weekly visits to share stories and encourage reading.
Thanks to the Friends of the Shaker Library for its sustained support for summer reading. This year, they applied for and received a grant from Aldi's, which will be used to purchase snacks for our Snacks and Stories for Summer Afternoons.
At the end of May, Sisters in Crime Northeast Ohio presented the Library with a $1,000 check. Since the organization's mission is "to promote the ongoing advancement, recognition and professional development of women crime writers," we will use the money to purchase books by women crime writers.
N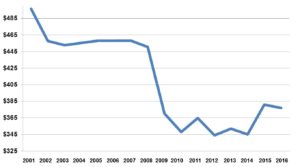 ews on State Library Funding continues to be disappointing. The graph at left is a visual representation of the Ohio Public Library Fund. Public libraries are receiving $119 million LESS in state funding than what they received in 2001–a 24% reduction in funding over the last 15 years with no adjustment for inflation. Recently, The Ohio House passed its version of the state budget lowering the Public Library Fund (PLF) for the next two fiscal years to 1. 66%. The Senate's version of the bill is anticipated to reset the PLF at 1.68% (down from the current 1.7%) of the State's General Revenue Fund. (GRF).
Ohio's public libraries have the highest use per capita in the nation and continue to be a sound investment. Every $1 spent by Ohio's public libraries yields a $5 return on investment. We know that Ohioans value their public libraries and we have urged the Senate to maintain the Public Library Fund.
On a happier note, please be sure to check our website calendar and choose from the many exciting summer reading activities we have planned for you. Connect. Read. Learn. Grow.