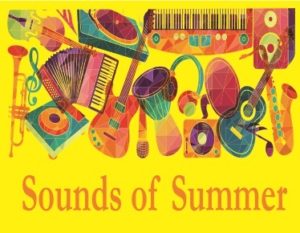 If you've visited Shaker Library recently, you can see that our Summer Reading Programs – for preschool, school age, teens, and adults – are in full swing!
In designing this year's summer reading program, our staff studied trends in summer reading programs. A number of blog posts by other youth services librarians (Tiny Tips for Library Fun, Abby the Librarian, Hafuboti, Library Bonanza) discuss the transition from frequent prizes to programs that offer fewer prizes with a collaborative project. We wanted to create a program that encouraged students to focus more on the intrinsic benefits of reading and less on the extrinsic value of prizes. Additionally, we wanted to avoid giving prizes that might likely become clutter and trash.
We want our children to be proud of their reading accomplishments so we chose to offer beads and "brag" tags as rewards this summer. When they register, school-age readers are given a necklace and one bead. Throughout the summer they can earn a bead for every hour they read, plus "brag tags" for the 20-, 30-, and 100-hour benchmarks. Earning a bead for every hour of reading is a very visible encouragement for all readers. A new addition to this year's school-age summer reading program is that each kid can also set their own goal and earn a brag tag when they reach it. We added this element because we want every reader to feel successful.
Our preschool program is designed to encourage parents and caregivers to read to their little ones on a daily basis, with preschoolers tracking each day they read or are read to for at least 15 minutes.
For both programs, the first "prize" readers earn is a book, which we hope will encourage more reading! Preschoolers can earn bubbles after 20 days of reading and an egg shaker after 30 days of reading, encouraging early literacy skills through play.
If you haven't yet signed up for summer reading, we hope to see you soon!
Happy reading!
---
ReadPlayCreate Comment Policy:
We love to hear from you! While most comments are welcome, all comments are moderated before posting. We will not accept comments that:
Attack or harass
Are solely promotional in nature
Use language that is inappropriate for young children.
---