Through a generous LSTA grant from the State Library of Ohio, Shaker Library has established a CEO – Community Entrepreneurial Office. The CEO provides office space that library cardholders can rent to meet with clients and to carry out business.
Each CEO cubicle is outfitted with a computer workstation with full suite of software that can be used to create brochures and flyers.
Office space within the CEO can be reserved on an hourly, weekly or monthly basis.
Dedicated Office
$75/month
Flex Office
$50/month
Walk-in Office
$5 for 2 hours
Computer Training Lab Rental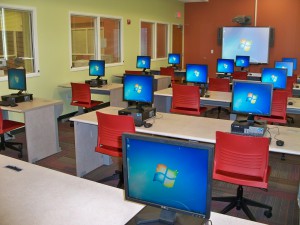 As part of our  Community Entrepreneurial Office, our Computer Training Lab with 12 computer workstations and one trainer station with a SMART Board is available for rental from 9 am to 3 pm Monday through Friday
$300 for a 3-hour rental
$400 for a 6-hour rental
To reserve the Training Lab, review the Meeting Room Policy. Click"Request a Meeting Room" and select the date and time to begin the online application. For more information, please call Rosemary Nugent at 216-991-2030 x3003.
Fax Services
$1/page for sending and receiving all faxes