Recently an anonymous patron donated three undated class photos to the Local History Collection. They had been found in an old book in Burton, Ohio.
With a little detective work we determined the date of the photos. From the abundance of checks and plaids on the children, we knew probably they were in the 1940s. There are also a few names faintly penciled in on the back of one photo (see below), and were able to match some of these names to the 1991 Shaker alumni directory. This was lucky, as the alumni directory only lists students who graduate from Shaker. The names we found correspond to the Shaker Heights High School graduating class of 1951.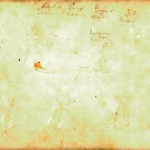 Here are the names we think we see on the back of the photo: Jimmy Deaner, Dickie Quinn, George Karch, Gifford Dyer, Virginia Kurtz, James Berick, Ted Nicent, John Miensch, Marian Huebschman.
Now we turn to you for help.
Can you confirm the identify of any of these children? Are these names familiar to you (or do we have them misspelled)? Do you see a father, an aunt, a cousin pictured here? Let us know!