The Pew Research Center report, "Libraries at the Crossroads," was released last month with some interesting findings that are important to Shaker Library. The study found that 89% of those surveyed nationally think that libraries "impact" their communities positively, which is similar to the 94% of residents surveyed locally who said "a good public library is important to the quality of life in Shaker Heights" per the recent TRIAD survey.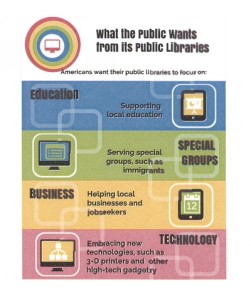 Overall, the Pew Research Center's findings indicate that Americans want their public libraries to: a) support local education; b) serve special groups, such as immigrants; c) help local businesses and job seekers; and d) embrace new technologies, such as 3-D printers and other high-tech gadgetry.
Shaker Library is "on track" in these areas: a) aligning itself with the Shaker Schools, using the "A+ Partnership in Education" model, with some success in recent years; b) offering longtime programs like "English in Action" ESL; c) establishing the Community Entrepreneurial Office/Career Transition Center (CEO/CTC) cooperative while reaching out to the LaunchHouse business incubator; and d) introducing digital devices to the public and investigating the concept of maker spaces. But there is more work to do.
Proponents of the "Libraries = Education" movement argue that this approach will help public libraries to reclaim their purpose in the twenty-first century as we see traditional models of physical collections and physical checkouts giving way to the virtual world of e-media collections and electronic access.
There is no doubt that library circulation and attendance have been declining on a national basis because of this changing landscape which has occurred since the start of the Great Recession. But now things seem to be in a holding pattern. A recent New York Times headline says, "Print is far from dead" with "signs that some e-book adopters are returning to print" and e-book sales falling by 10 percent during the first half of 2015. In the meantime, libraries continue to balance traditional and technological resources.
Out of these changes have come a few of new library philosophies. One is that the purpose of libraries is to provide a place for people to learn, to create, and to share. Shaker Library's mission, "to build community and enrich lives by bringing together people, information, and ideas," is somewhat similar, but the next step is to offer spaces that make it all possible. That leads to the second trend, which is to start thinking about designing library services and buildings around people and the way they use libraries instead of constructing facilities around stacks, equipment, and collections. Shaker Library has conducted two surveys of what people do when they are in the library, but it is also important to consider why they came to the library, what they saw when they arrived, and whether they got what they wanted!
Of course, Shaker Library still faces maintenance costs of $5 million over ten years that are beyond its budget. That adds up to about 60% more per year than is spent on regular, old fashioned books—that are still being used by the public. Additional funding is needed to get Shaker Library in 21st century shape!
Luren E. Dickinson, Director
dickinson@shakerlibrary.org