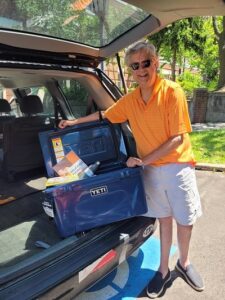 Congratulations to Tom and Mary Seay who were the lucky winners of the Friends' Summer Raffle for a  Yeti Cooler, a Swig Life water bottle, and two books!  According to Tom, "We are huge library users and are happy to support the Friends and the Library. We've even visited the Yeti store in Texas so it was quite exciting to win one."
Thanks, Tom and Mary, you never take a chance when you support the Friends. We're so glad you will enjoy your Yeti!
And thank you to all our generous Friends' supporters who entered the Raffle.