Computer Classes
Shaker Library offers a variety of FREE, one and a half hour computer classes.
Beginning Computers
The Beginning Computers series consists of four different classes to help familiarize you with the computer and beginning concepts of using the Internet.
Productivity
The Productivity Classes consist of three tracks to help you with commonly used programs:
Special Classes
We also offer Special Classes on a variety of helpful subjects such as using digital devices, accessing Social Media like Facebook and Twitter, Photoshop instruction, and more.
Individual Technology Training
The Library offers a limited number of one-on-one sessions with an experienced technology trainer at the Main Library by appointment only. Please complete the online form and someone will contact you to assess your training needs and schedule an appointment. Requests can also be made by calling the Main Library Computer Center: 216-991-2030 x2385.
Online Tutorials
Want to learn more right away? Try one of these free online tutorials:
Registration
Registration is required and begins four weeks before the class.
Register online or call the Main Library Computer Center at 216-991-2030 x2385.  If you reach the library's automated attendant, choose Option 8 to reach the Computer Center.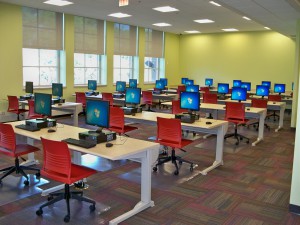 Tell us how we did
Did you recently take one of our Computer Classes? Then we want to hear from you!  Please help us by completing this brief survey.