Shaker Library Is Among Twenty-Two Libraries Selected to Participate in the Yiddish Book Center's "Coming to America" Reading Groups for Public Libraries
The Yiddish Book Center has announced that Shaker Heights Public Library is among twenty-two public libraries from eighteen states selected to receive a grant and to be part of the Center's "Coming to America" Reading Groups for Public Libraries program. The Yiddish Book Center's "Coming to America" Reading Groups for Public Libraries is a reading and discussion program to engage teens and adults in thinking about the experience of immigrants encountering America. The "Coming to America" reading groups will introduce libraries and the public to Yiddish literature in translation within the context of the broader experience of immigrants adjusting to life in the United States—a topic as relevant today as it was a hundred years ago.
The program will feature Yiddish literature in translation that explores questions of identity, assimilation, language, cuisine, and generational change, presenting American identity as an ongoing conversation, a give and take between insiders and outsiders. Each library's reading group will compare works written in Yiddish in the early 20th century to works by contemporary immigrant writers.
This page will be updated and the programs rescheduled when the Coronavirus Quarantine has been lifted.
Book Discussions
Join in one or all of the "Coming to America" discussions held at Bertram Woods Branch. Please register in advance and pick up a copy of the book one month before each discussion.

7-8:30 pm Monday, March 16 : Motl the Cantor's Son by Sholem Aleichem
7-8:30 pm Monday, April 27: Enemies, A Love Story by Isaac Bashevis Singer
7-8:30 pm Wednesday, May 27: A Jewish Refugee in New York by Kadia Molodowsky
7-8:30 pm Monday, June 22: The Leavers by Lisa Ko
Film Screening and Discussion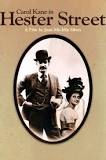 2-4 pm Saturday, April 4 at Main Library: Hester Street
Set in the early 1900s, this film deals with themes of assimilation and focuses on the experiences of an immigrant family in New York City. Gitl and her son arrive in New York City from Russia to meet her husband, Jake, who has been in the States for some time and is comfortably settled. Gitl struggles to find her place in her new country and clashes with Jake, who has fully embraced their new homeland.
---
About the Yiddish Book Center
The Yiddish Book Center is a nonprofit organization working to recover, celebrate, and regenerate Yiddish and modern Jewish literature and culture.
The million books recovered by the Yiddish Book Center represent Jews' first sustained literary and cultural encounters with the modern world. They are a window on the past thousand years of Jewish history, a precursor of modern Jewish writing in English, Hebrew, and other languages, and a springboard for new creativity. Since its founding in 1980, it has launched a wide range of bibliographic, educational, and cultural programs to share these treasures with the wider world.
 In 2014, the Yiddish Book Center was awarded a National Medal for Museums and Libraries, the nation's highest medal conferred on a museum or library, at a White House ceremony.
"Coming to America" Reading Groups for Public Libraries is made possible by a gift from Sharon Karmazin.