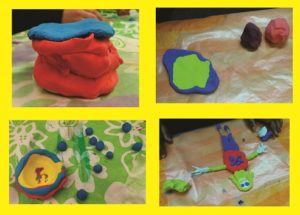 Craft Club last Monday was fairly simple; we played with Model Magic modeling compound. While a fairly straightforward activity, the children in attendance were easily occupied for the 45-minute program. Working with several different colors allowed them to learn more about primary and secondary colors, (What colors do you think we need to make green? What will happen if we mix orange and green?) and to gain manual dexterity. Enjoy our collage of clay creations in progress. Want to join in the creative fun? Register for our next Monday Craft Club.
Looking for more ideas and inspiration for clay projects with the kids in your life? Read this post from the Artful Parent or check out these books from the Library:
~ Ms. Megan
---
ReadPlayCreate Comment Policy:
We love to hear from you! While most comments are welcome, all comments are moderated before posting. We will not accept comments that:
Attack or harass
Are solely promotional in nature
Use language that is inappropriate for young children.