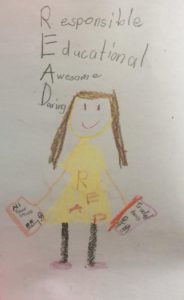 We celebrated the 80th anniversary of the Library on April 22 at Main Library with our wonderful Shaker community. We thank everyone who celebrated with us and who shared their library memories and birthday wishes. Comments included:
"Here's to another 80 years."

"An anchor of the community's intellectual health."

"You have blessed many lives with the gift of knowledge."

"This really is the best library ever. We feel so lucky to be part of this wonderful community."
We read every birthday wish and we do, indeed, plan to continue thriving for another 80 years and beyond.
Monday, May 22, we will welcome new Library Board member Doreen Katz, a  Boulevard resident, who will serve a seven-year term. She graduated from Case Western Reserve University with a B.S. in Civil Engineering and worked as a forensic engineer, investigating building failures and managing building repair projects throughout Northeast Ohio. We are pleased to welcome her to the Board.
Shaker has a wealth of generous and talented community members who share their special knowledge with us. Recently, Master Gardner Lynn-Ann Gries shared her expertise on Creative Gardening in Containers, Dr. Atossa Alavi gave us an Introduction to Intellectual Property and on May 22 Adam Giannelli, Shaker Heights High School Class of 1996, author of Tremulous Hinge, winner of the Iowa Poetry Prize, will return to his home library  to perform his poetry at Woods Branch.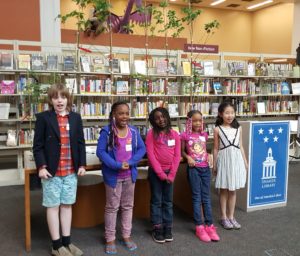 In April we partnered with the City's Tree Advisory Board on another successful Poster and PoeTREE contest for children. Gali's Florist and Garden Center donated dogwood trees for the winners and, these proud winners' faces say it all. May found us partnering with the Shaker Heights High School and Middle Schools' Art Departments to present Art Exposed VIII: The Inner Workings of An Art Department. We are proud to promote our students' amazing artistic talents and are most grateful to the teachers for providing the community with a look into the schools' art programs. The exhibit will be on display through May 23 so be sure to visit.
With its community partners, the library works to help combat summer learning loss by offering free summer reading programs for all ages. Our Friends of the Library underwrites the summer reading program by providing prizes as reading incentives for children and teens. Community merchants, Dewey's Gathering House at Shaker Square, Lucy's Sweet Surrender, Simply Delicious Pies, J. Pistone Market and Gathering Place and Yours Truly at Shaker Square sweeten summer reading with gift certificates for adult readers. Sign up at shakerlibrary.org. Back by popular demand, the library's Book Cart Brigade will once again participate in the City's Memorial Day Parade on May 29.
The Sounds of Summer will echo throughout the Main Library from 6-8 pm Monday, June 5. Plan to join us for this family event celebrating music, books, and reading presented in partnership with the Shaker Heights Schools and the City of Shaker Heights Recreation Department. There will be many fun activities for children and adults. The Friends will hold a Pop-Up Book Sale and visitors can learn how to download books on mobile devices at our Tech-Try-It Station from our partners from OverDrive.
Please visit us often. Shaker Library is a unique and valuable community resource. It is a lifeline to the world and all the information in it.