The Library plans to remain open for the duration of the renovation; however, there may be times when some services could be disrupted. Please check back here often for renovation news and updates.
---
Meet the Renovation Design Team and learn what has been happening behind the scenes –01-03-2020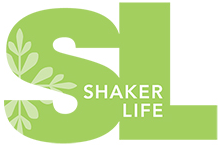 Read the January 2020 Library News in Shaker Life magazine about the Library's commitment to our community, our plans for renovation, and the designers who will help to make it all happen.
Renovation Updates presented to the Board of Education — 12-10-2019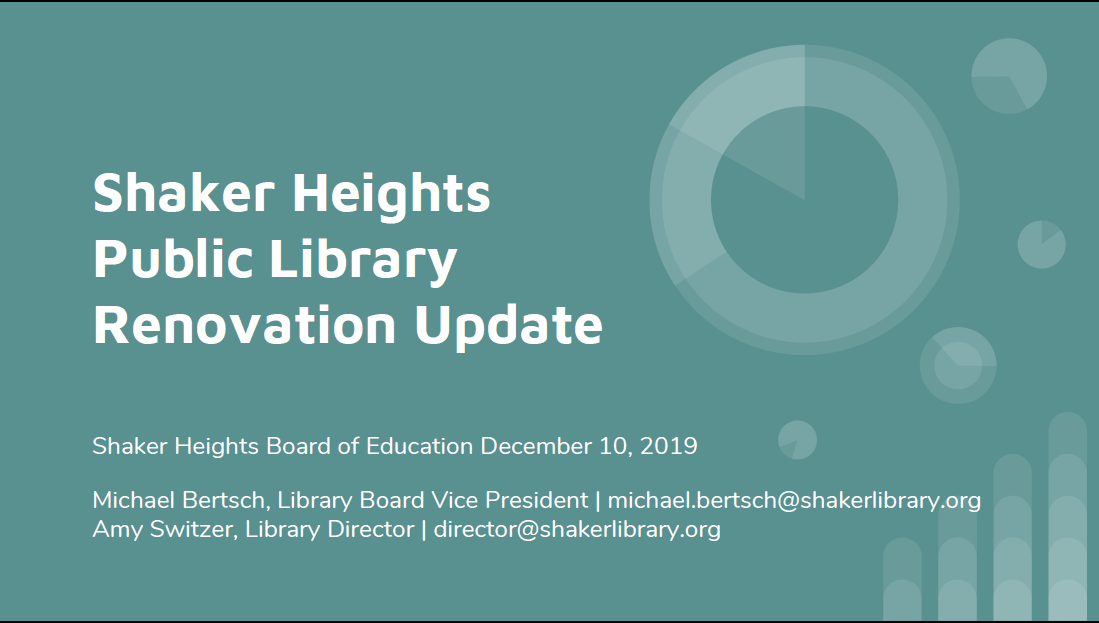 On December 10, Library Board Vice President, Michael Bertsch, and Library Director, Amy Switzer, updated the Shaker Heights Board of Education with a brief presentation on the progress of the library renovation project.
Results from Community Feedback Survey – 09-04-2019

Architects from Bialosky Cleveland provided a "Dashboard" view of the Community Feedback Survey results from our three opportunities for public comments in August. The exercises were interactive and enlightening.  Thank you to the 896 respondents who shared their comments with us.
Library Selects Construction Manager at Risk for Library Renovation and Repair Project – 8-17-2019

The Library Board selected Turner Construction Company as the Construction Manager at Risk for the Main Library renovation project. Turner has extensive experience with public library projects and with renovating historic buildings. They have a deep knowledge of working in Shaker Heights and worked with the our architects, Bialosky Cleveland, on the Van Aken District. The team working our project has built their careers on complex new build, renovation and historical projects and they have experience managing renovations during ongoing operations.
Planning a Renovation with Our Community — 7-22-2019
Get in on the ground floor! The way Shaker Library uses its space and resources to support our community is critical for our success. We need your comments and observations to help guide our plans for the renovation of the Main Library building. Please drop in at the Main Library any time during one of the open houses and share your thoughts with us. Refreshments provided by our generous Friends of the Shaker Library. 10 am-noon Wednesday, August 7, 4-6 pm Wednesday, August 7,  and 10 am-noon Saturday, August 10.
Please take the time to join us. This is your library
Library Trends — 7-15-2019
When the Library hired Bialosky Cleveland as architects for the Main Library renovation, the firm set to work immersing themselves in the library world and researching current library developments. They created a Library Trends presentation for the Library Board, which we are pleased to share with our community. We are excited to be moving forward in the process.
Change to Our Meeting Room Procedures — 7-01-2019

The upcoming renovation of Shaker Library will transform your library for the twenty-first century. During the renovation project, access to some spaces may sometimes be limited. We are working to ensure that any meeting room you reserve will be available when you need it. Therefore, beginning July 1 meeting room reservations may be made no more than three months in advance, instead of up to six months in advance. Thank you for your understanding during this exciting time. Meeting Room Information.
Library Selects Architect for Library Renovation and Repair Project — 5-28-2019
The Library Board selected Bialosky Cleveland as the architect for the Main Library renovation project. Because of needed repairs to the building, particularly the building envelope, it is essential to ensure that the team providing services for mechanical, electrical, and plumbing (MEP), structural, civil and building envelope services are highly qualified and experienced in similar projects. Bialosky Cleveland has significant in-house MEP expertise and will be using Wiss, Janney, Elstner Associates for building envelope services. Read press release.
Library Hires Owner's Representative — 1-28-2019
The Library Board hired
RFC Contracting
, Inc. as the Owner's Representative for the Main Library renovation. RFC has extensive experience providing Owner's Representative services on public projects, including for public libraries.