Shaker Main Library and Bertram Woods Branch are currently open:
11 am to 7 pm Monday through Thursday
9:30 am to 5:30 pm Friday and Saturday
Closed Sunday for deep cleaning
---
Putting Customers & Safety First
To help continue to contain the spread of COVID-19 and to serve our community, the library is open for essential services including holds pickup, material selection and checkout, use of public computers and print/scan/copy/fax machine. This plan continues to evolve and to be informed by the Centers for Disease Control & Prevention and the Ohio Department of Health.
When visiting, please follow these important guidelines: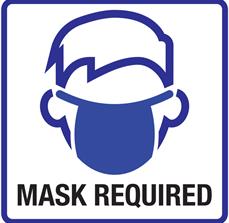 Staff and visitors age 2 and older are required to wear a mask covering both mouth and nose. (If you are unable to wear a mask, we can accommodate you through curbside, online, or telephone assistance. Please call the library.)
Remember to maintain 6 feet of physical distance from others at all times.
Please do not eat or drink in the library.
Changes in the library buildings
Both libraries have reduced capacity limits, which will be monitored for your safety.
Plexiglass shields are installed at the public service desks, and floor decals are placed to help promote social distancing.
Computer Stations are spaced out to maintain distance between visitors.
We have made physical changes to the building to decrease touchpoints; for example, replacing hot air hand dryers with paper towels, and disengaging public drinking fountains.
The library will have hand sanitizer available, but it is always a good idea to bring your own should supplies run low.
To safely handle and quarantine returned items, books and other material should continue to be returned to the drive-up book drops.
All library programs will continue to be offered virtually. Please visit the website to see a full listing of programs.
Curbside Pickup
Library cardholders no longer have to call to make an appointment to pick up material.

You can arrive when it's convenient for you, up to 10 minutes before closing.
Remember to bring your library card or know your card number. If

you do not have your library card number available, you must park in a non-curbside spot and come into the library with your Drivers License/State ID to check out material.

Account collection services are currently suspended and a return date has not been set. If you have lost items on your account, you will receive a letter from CLEVNET explaining that your account is being charged for the items and that you may be sent to collection. (This letter is the same for all CLEVNET libraries and cannot be modified.) Please know your account will not be sent to collection for lost items at this time. We ask that you please return the items. Charges will be removed from your account for any item returned in good condition.
Computers
Computers at Main Library and Bertram Woods Branch are available on a first-come, first-served basis, with no appointment necessary.
Computers are available 11 am-6:55 pm Monday-Thursday and 9:30 am-5:25 pm Friday and Saturday.
Due to library renovations and the need for physical distancing, computer use per person per day may be limited.
Due to physical-distancing requirements, staff assistance is limited. We can provide simple pointers and guidance but we are unable to provide in-depth support at this time.