During this summer's American Library Association annual conference in San Francisco, I attended a session by a generational expert about so-called "Millennials" (those born beginning in 1980).  She reported that the Millennial generation is becoming a growing part of the workforce.  In fact, according to this Pew Research Center chart, Millennials became the largest generational cohort in the U.S. workforce just this year: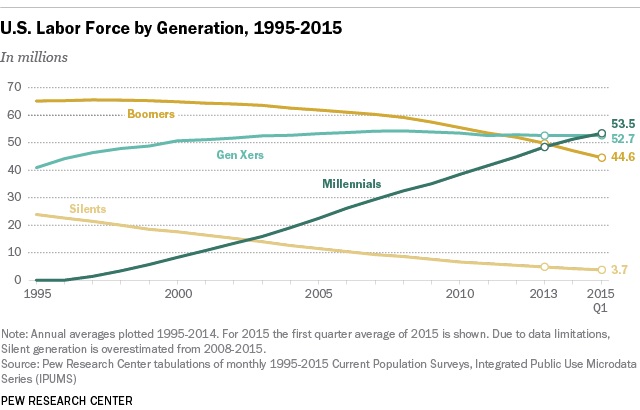 Currently, about a third of American workers were born since 1980, and by the year 2020, that number will increase to 50%.  Even more surprisingly, by the year 2025, 75% of the world's workforce will be made up of Millennials!  Because of higher birthrates elsewhere, some countries like India and China already have more Millennials than the entire U.S. population!  Many are very well educated and skilled, some of them making their way to America to fill key positions than have gone unfilled domestically.
With all the talk about Millennials, people are forgetting about the latest population cohort—Generation Z.  Those in this group are sometimes called the "Homeland" Generation because they are not old enough to remember the events of September 11, 2001 even though they have grown up in an era that is very much concerned about terrorism.
Like Millennials, members of Generation Z have lived in a world that is full of technology and can be considered "digital natives" because they have not known life without the Internet, cell phones, and tablets.  With that in mind, Shaker Heights Public Library became the first library in Cuyahoga County, and the first among 45 CLEVNET member libraries in 12 counties across northern Ohio to offer the new Playaway "Launchpads" for checkout.
These easy-to-use tablets are pre-loaded with a variety of interactive learning apps for children from preschool age to grade 5 and up. They are grouped as learning packs under subjects such as reading, math, science, creativity, and critical thinking; or themed learning packs, with topics like princesses, animals, transportation, dinosaurs, space, fantasy, etc.  Shaker Library has Launchpads for ages 3 to 5 (Pre-K to Kindergarten) and ages 5 to 7 (Kindergarten to 2nd Grade)—see the illustration below.  Depending upon demand, ages 8 to 10 (3rd Grade to 5th Grade) and ages 10+ (5th Grade and up) may be added.
The tablets do not have cameras or wifi capability, which means kids cannot be accidentally exposed to undesirable content.  Housed in Youth Services, they are available at both Main Library and Bertram Woods. Only two devices may be checked out to a parent at one time.  The length of checkout is seven days.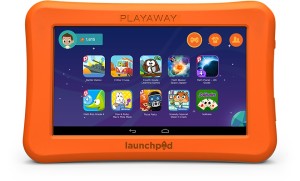 Shaker Library hosted a Launchpad kickoff party July 7 with representatives from Playaway, a Solon-based business.  Of the original 30 purchased, all but 3 of the devices had checked out within the first few hours.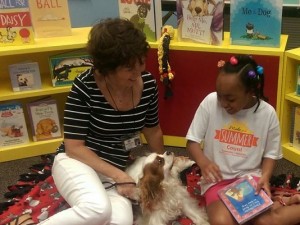 The joint countywide "Make Your Summer Count—Read!" Summer Reading Program ends August 7 and has certainly been a success thanks to our many library and institutional partners.  Of note is our PR partner, WKYC-TV3, which has televised regular features during the course of the summer that have helped promote registration.  A big thank you also goes out to our countywide summer reading "spokeschild" Madison Reid.  This precocious 8-year-old has charmed everyone and she absolutely loved her "Read to a Dog" experience at Shaker Library last month.
Luren E. Dickinson, Director
dickinson@shakerlibrary.org