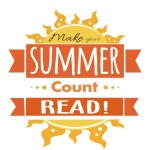 While it seems we are barely into spring, it's time to begin thinking about summer. At the Library when we think about summer, we think about summer reading. This year, Shaker Library will collaborate with six other library systems within the county including Cleveland, Cleveland Heights-University Heights, Cuyahoga County, East Cleveland, Euclid, and Westlake.
This summer's program, "Make Your Summer Count," will go beyond promoting reading, it will also encourage children to participate in a variety of math and volunteer activities. Joining our seven library systems are some of the area's finest cultural institutions including, the Children's Museum of Cleveland,  Cleveland Metroparks Zoo, Cleveland Museum of Natural History,  Great Lakes Science Center, Greater Cleveland Aquarium, NASA, and the Rock and Roll Hall of Fame and Museum.
Be sure to watch the library for details about the program, which begins June 8 and continues through August 7, and make your summer count!
Luren E. Dickinson, Director
dickinson@shakerlibrary.org