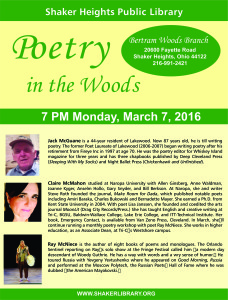 Poetry in the Woods returns from its winter hiatus with the "Mc" poets: Jack McGuane, Claire McMahon, and Ray McNiece.
Jack McGuane is a 44-year resident of Lakewood. Now 87 years old, he is till writing poetry. The former Poet Laureate of Lakewood (2006-2007) began writing poetry after his retirement from Fireye Inc in 1997 at age 70. He was the poetry editor for Whiskey Island magazine for three years and has three chapbooks published by Deep Cleveland Press (Sleeping With My Socks) and Night Ballet Press (Chickenhawk and Unfinished).
Claire McMahon studied at Naropa University with Allen Ginsberg, Anne Waldman, Joanne Kyger, Anselm Hollo, Gary Snyder, and Bill Berkson. At Naropa, she and writer Steve Roth founded the journal, Make Room for Dada, which published notable poets including Amiri Baraka, Charles Bukowski and Bernadette Mayer. She earned a Ph.D. from Kent State University in 2004. With poet Lisa Janssen, she founded and coedited the arts journal MoonLit (Drag City Records/Press.) She has taught English and creative writing at Tri-C, BGSU, Baldwin-Wallace College, Lake Erie College, and ITT-Technical Institute. Her book, Emergency Contact, is available from Van Zeno Press, Cleveland. In March, she'll continue running a monthly poetry workshop with poet Ray McNiece. She works in higher education, as an Associate Dean, at Tri-C's Westshore campus.
Ray McNiece is the author of eight books of poems and monologues. The Orlando Sentinel reporting on Ray's solo show at the Fringe Festival called him "a modern day descendant of Woody Guthrie. He has a way with words and a wry sense of humor." He toured Russia with Yevgeny Yevtushenko where he appeared on Good Morning, Russia and performed at the Moscow Polytech, the Russian Poets' Hall of Fame where he was dubbed "the American Mayakovski."