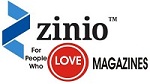 The world's largest newsstand is here!
Shaker Library offers access to more than 80 popular magazines that can be read on your computer, tablet, or smartphone through Zinio and Recorded Books.
Some magazines we offer include Cosmopolitan, The Economist, Newsweek, Weight Watchers, and Women`s Day. There is no waiting list and no need to return issues, but you must have a Shaker Library card.
Go directly to the Library's Zinio page and see the complete list
Or follow these step-by-step instructions:
Instructions for Using Zinio for the First Time
What You Will Need
A computer or a mobile device with the Zinio app installed
A Shaker Library barcode number
An email address
➀ Install the Zinio app by visiting the app store for your device to download and install the free Zinio Reader app. (Apps are available for iPad®, iPhone®, Kindle Fire™, Android™, Blackberry® Playbook™)To download the app for iPhone and iPad, search the iTunes Store from your device. For Android devices search the Google Play Store. For the Blackberry app, search Blackberry World, or use the links below:

iPhone
iPad
Android
Blackberry Playbook
The Kindle Fire app cannot always be found in the Kindle app store. Use this alternate link if you can`t find the app using your Kindle.
➁ Register your Zinio Library Collection account through Shaker Library. During this one-time set up process you will create TWO accounts.
Account #1 validates you as an active Shaker Library cardholder and provides access to the library's complete magazine collection.
Account #2 provides a viewer account in Zinio.com for online streaming and off-line reading using an App for PCs or Macs or mobile devices.
We recommend that you use the same email address and password for both accounts.