If it's April, it's time for the Friends Book Sale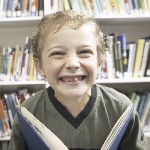 We all love a bargain and Friends members have been working all winter getting ready for their huge spring book sale. New this sale are extended evening hours for the public on Thursday night and a raffle for a Kindle Paperwhite.
Note the sale dates and times and plan to browse and buy from our huge selection of books, CDs, and DVDs and a room filled with "special" items.
And, if you don't find what you're looking for at the Book Sale, visit Barnes & Noble at The Eaton Collection from 9 am – 11 pm Saturday, April 19 and a portion of your purchase will go to the Friends.  Just mention "Shaker Library" or "Friends of the  Shaker Library" at the register. If you want to shop and support the Friends virtually, visit bn.com/bookfairs between April 19 and April 24 and enter Bookfair ID 11314358 at checkout.
4- 8 PM Wednesday, April 9  Friends Preview Night (Not a Friend? Join at the door for a small fee and get first dibs on a huge selection of books, CDs and DVDs.
9:30 – 8 pm Thursday, April 10
9:30 am – 4 pm Friday, April 11
9:30 – 4 pm  Saturday, April 12
1:30 pm – 4:30 pm Sunday, April 13 Bag Sale Sunday (All bags of books cost $5)