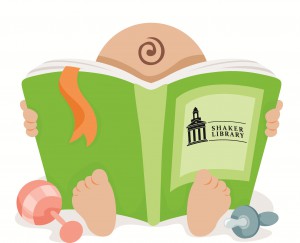 Expecting? Expect to get some good information from a variety of community agencies serving children when the Library welcomes parents-to-be and new parents to a community baby shower. Learn all that the Library and local agencies have to offer new families. Nonprofits and for-profits will staff tables of their services and wares, and each mom- and pop-to-be will receive a bright baby bag to fill with free samples.
The City's Health department will be on hand to offer flu shots and hand out literature about immunizing babies. The Shaker Fire department will demo safe car seat placement and offer tips to keep the home safe for baby. The Breastfeeding Support Group at Hillcrest Hospital and La Leche League of Cleveland Heights will be available to offer new moms help and support, and Family Connections will have information about its many services for families.
Walgreens, MotoPhoto, Stroller Mama, and Buy, Buy Baby are some of the commercial entities that will be on hand to demonstrate their services and equipment. The Library's children's department will have literacy tips for parents and lists of books to read to babies as they grow.
Enjoy cake and punch, enter drawings for raffles, and discover all the resources the library and the community have to offer you and your bundle of joy. Siblings are welcome.