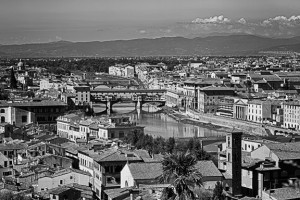 Meet photographer Lauren Pacini and enjoy his photographs that capture a beautiful part of Italy in black and white.
Lauren Pacini is a photographer and author. His primary focus is the urban landscape. Born in 1943, Pacini moved to Cleveland in 1950, and with the exception of college and military service has made it his home ever since.
As a photographer Pacini strives to understand the story behind the subject matter to which he is drawn, and to convey that story through his art. Pacini believes that black-and-white photography offers a compelling richness of detail, texture and contrast that is often obscured by the color pallet. His photographs generally do not include people. Feeling that the inclusion of people defines the photograph, he prefers to encourage the viewer to interpret the photograph in the context of his or her own experience.
The exhibit was installed on September 4 and will be on display until October 2.